-Documentary 2006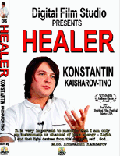 A story about Constantin Kaisharov - Tino, a young man 26 years old, who has ability to see a human aura, to discover the illness in human body and to heal with energy.
He describes himself : I'm only an instrument or channel of that energy - Light, and that light derives from the source it self, God...
In this documentary you can see dramatic confessions of the people with real medical problems, as well as the treatments performed by Tino.


Healer was officially selected at Sun Valley Spiritual Film Festival 2007 and won ''Audience Choice Award''.