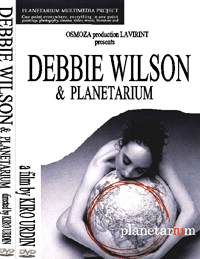 DEBBIE WILSON "THE GLOBE AND MAIL, TORONTO, FEBRUARY 2003"
"KIRO URDIN HAD BEEN INSPIRED BY OTHER CULTURES, WHICH LED ME TO ENVISION A DANCE PIECE INSPIRED BY THE THEMES OF MULTICULTURALISM AND HARMONY.
I DON'T WANT TO DEFINE CULTURES, BUT RATHER TO SHOW THAT OUR DIFFERENT STYLES OF DANCE CAN MERGE TOGETHER INTO ONE HOMOGENOUS GROUP."

Choreography: Debbie Wilson

Set design: Kiro Urdin
Music: Venko and Vasko Serafimov
Photography: David Hou

Ms. Wilson's rich background as dancer; teacher and rehearsal director reflects a lifetime of work with some of the greatest artists of our time; a lifetime reflected in her resonant choreographic voice. She began dancing with the Cincinnati Ballet Company at the age of twelve and was promoted to soloist two short years later. Omo Dance Company is a dynamic, multiracial company that engages and excites its audiences through Debbie Wilson's critically acclaimed choreography, and through collaborations with outstanding composers, artists and designers. OMO's wide appeal to both dance-related and popular audiences has garnered Debbie Wilson the "Best Local Choreographer" award in the Toronto-based NOW Magazine's readers' poll for 2000, 2001 and 2003. OMO has shown an impressive annual increase in audience attendance, and is one of Toronto's most prolifi ccompanies.
The performance Planetarium Multimedia Project was presented to Toronto, Skopje, Heraclea, Ohrid, Ankara, Chicago, Geneva, and during the commemoration of the 60th anniversary of the United Nations.